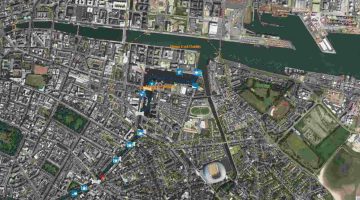 MARINE NOTICE, No 11 of 2020
GRAND CANAL DUBLIN
Update on Irish Water sewer repair works between Locks 1 & 2, Inchicore area
As an update to Notices 76 & 81 of 2019 Waterways Ireland wishes to advise its users that the Grand Canal between Locks 1 & 2 is now fully closed to navigation passage, as Irish Water has now commenced the permanent repair works to the collapsed sewer at this point. Further investigation at the time had identified major repair works required to the sewer, which led to additional time in appointing a contractor for the permanent repair works. Irish Water are aware of the need to complete repairs and restore navigation for the 2020 season and are working towards this date with their contractor. But as the works to the sewer are weather dependent, Waterways Ireland are not in a position to give a definitive date for navigation re-opening at this stage.
Waterways Ireland thanks its customers for their ongoing understanding in this matter.
Patrick Harkin, Inspector of Navigation, 12 Feb 2020
GRAND CANAL DUBLIN
Update zu den Reparaturarbeiten an der Kanalisation von Irish Water zwischen Schleuse 1 und 2, Inchicore-Gebiet
Als Aktualisierung der Mitteilungen 76 & 81 von 2019 möchte Waterways Ireland seine Nutzer darauf hinweisen, dass der Grand Canal zwischen den Schleusen 1 & 2 nun vollständig für die Schifffahrt gesperrt ist, da Irish Water nun mit den permanenten Reparaturarbeiten an dem eingestürzten Kanal an dieser Stelle begonnen hat. Weitere Untersuchungen hatten damals ergeben, dass größere Reparaturarbeiten am Kanal erforderlich waren, was zu einer zusätzlichen Zeit bei der Ernennung eines Auftragnehmers für die permanenten Reparaturarbeiten führte. Irish Water ist sich der Notwendigkeit bewusst, die Reparaturarbeiten abzuschließen und die Schifffahrt für die Saison 2020 wiederherzustellen, und arbeitet gemeinsam mit dem Auftragnehmer auf dieses Datum hin. Da die Arbeiten an der Kanalisation jedoch wetterabhängig sind, kann Waterways Ireland zum jetzigen Zeitpunkt kein endgültiges Datum für die Wiedereröffnung der Schifffahrt nennen.
Waterways Ireland dankt seinen Kunden für ihr anhaltendes Verständnis in dieser Angelegenheit.