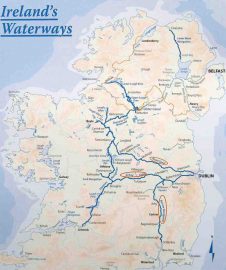 MARINE NOTICE, No. 51 of 2020
Royal Canal, Grand Canal, Barrow Line & Navigation
Reopening of navigations from 8th June 2020
Waterways Ireland wishes to advise masters and users of the Royal Canal, Grand Canal, Barrow Line & Navigation of the following additional details & clarifications in relation to these navigations, further to the recent MN44/2020 & re-opening roadmap.
 Lock operating Hours – 08th to 29th June – 09:30hrs to 17:00hrs daily.
 Navigation remains open within 5km of your home; from 8th June this is expected to increase to within 20km from your home
 As a cautionary note, water levels are generally low due to the recent time of low rainfall. Also normal maintenance weed-cutting of navigation channels has been late in starting due to the ongoing restrictions, so additional weed growth can be expected in the navigation channels. Masters are asked to contact the local waterway patroller for updated information if wishing to navigate a particular area
 Due to the above points, arrangements for boat passage in / out from Dublin are not expected to resume until Phase 3 of the roadmap, at which point they will revert to those set out in MN10/2020. Masters are also advised as an advance notice that works are planned to be undertaken at Lock C4 Mespil Road from end August, which subject to confirmation would necessitate further closure again at this point.
The Barrow navigation is closed at Athy and Carlow due to the weir breaches as previously advised by Marine Notices. The Barrow line section is open to navigation.
Waterways Ireland thanks its customers for their ongoing understanding during the navigation re-opening process.
For further information on the reopening of the navigation please visit www.waterwaysireland.org
P. Harkin, Inspector of Navigation, Waterways Ireland, 05 June 2020
Royal Canal, Grand Canal, Barrow Line & Navigation
Wiedereröffnung der Schifffahrt ab 8. Juni 2020
Waterways Ireland möchte die Kapitäne und Benutzer des Royal Canal, des Grand Canal, der Barrow Line und der Navigation auf die folgenden zusätzlichen Details und Klarstellungen in Bezug auf diese Schifffahrtswege hinweisen, im Anschluss an die jüngste MN44/2020 und die Roadmap zur Wiedereröffnung.
Schleusenöffnungszeiten – 08. bis 29. Juni – täglich von 09:30 Uhr bis 17:00 Uhr.
Die Schifffahrt bleibt in einem Umkreis von 5 km von Ihrem Wohnort geöffnet; ab dem 8. Juni wird dies voraussichtlich auf einen Umkreis von 20 km von Ihrem Wohnort ausgedehnt.
Vorsichtshalber sei darauf hingewiesen, dass die Wasserstände aufgrund der jüngsten Zeit mit geringen Niederschlägen im Allgemeinen niedrig sind. Auch der normale Unterhaltungs-Unkrautbeschnitt der Schifffahrtskanäle hat aufgrund der anhaltenden Beschränkungen erst spät begonnen, so dass mit zusätzlichem Unkrautwachstum in den Schifffahrtskanälen gerechnet werden kann. Die Kapitäne werden gebeten, sich für aktuelle Informationen mit dem örtlichen Wasserstraßen-Patrouille in Verbindung zu setzen, wenn sie ein bestimmtes Gebiet befahren möchten.
Aufgrund der oben genannten Punkte ist nicht zu erwarten, dass die Vorkehrungen für die Schiffspassage von und nach Dublin vor Phase 3 des Fahrplans wieder aufgenommen werden und dann wieder zu den in MN10/2020 festgelegten Regelungen zurückkehren. Die Kapitäne werden außerdem als Vorankündigung darauf hingewiesen, dass ab Ende August Arbeiten an der Schleuse C4 Mespil Road geplant sind, die vorbehaltlich einer Bestätigung eine weitere Schließung zu diesem Zeitpunkt erfordern würden.
Die Barrow-Schifffahrt ist in Athy und Carlow aufgrund der Wehrbrüche geschlossen, wie zuvor in den Mitteilungen der Marine angekündigt. Der Abschnitt Barrow Line ist für die Schifffahrt geöffnet.
Waterways Ireland dankt seinen Kunden für ihr anhaltendes Verständnis während des Wiedereröffnungsprozesses der Schifffahrt.
Für weitere Informationen über die Wiedereröffnung der Schifffahrt besuchen Sie bitte www.waterwaysireland.org