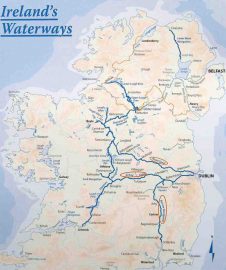 MARINE NOTICE, No. 18 of 2021
The Erne System, the Shannon Erne Waterway (within Northern Ireland) and the Lower Bann Navigation
COVID-19 Response
Access to navigations and availability of Services
Waterways Ireland wishes to advise all Masters of vessels and water users on The Erne System, the Shannon Erne Waterway (within Northern Ireland) and the Lower Bann Navigation of the following notice in relation to access to the navigations and availability of services. These restrictions are in line with the Phase 2 measures announced by the Northern Ireland Executive.
All Waterways Ireland locks and service blocks remain closed.
Local area access to jetties and moorings in accordance with Northern Ireland Executive guidance.
Pump-out facilities are available for use. Owners must ensure that travel to pump-out facilities must be undertaken in a responsible manner minimising the amount of essential movement out on the water.
When on jetties please be aware of other users. Wait or move aside to allow others to pass at a safe distance.
We will continually review such measures in light of direction and advice from Government and health professionals and any decisions on service provision will be communicated via the issuance of Marine Notices. If we all continue to observe government guidance, follow advice to limit use, and strictly observe social distancing, together we can combat this pandemic – and be able to enjoy getting back out on or by our waterways when we've beaten it.
While our staff are working from home, they are available by phone during normal working hours. Should you need our assistance please do contact us by email at info@waterwaysireland.org
or by phone https://www.waterwaysireland.org/contact-us.
Waterways Ireland thanks all vessel owners and operators for their co-operation in relation to this matter.
P Harkin, Inspector of Navigation, Waterways Ireland, 09 April 2021
COVID-19 Antwort
Zugang zu den Schifffahrtswegen und Verfügbarkeit von Dienstleistungen
Waterways Ireland möchte alle Kapitäne von Schiffen und Wasserbenutzer auf dem Erne System, dem Shannon Erne Waterway (innerhalb Nordirlands) und der Lower Bann Navigation auf die folgende Mitteilung bezüglich des Zugangs zu den Schifffahrtswegen und der Verfügbarkeit von Dienstleistungen hinweisen. Diese Einschränkungen stehen im Einklang mit den Maßnahmen der Phase 2, die von der nordirischen Regierung angekündigt wurden.
Alle Schleusen und Serviceblöcke von Waterways Ireland bleiben geschlossen.
Der Zugang zu den Stegen und Liegeplätzen in der Umgebung ist gemäß den Richtlinien der nordirischen Regierung möglich.
Auspumpeinrichtungen können genutzt werden. Die Eigner müssen sicherstellen, dass die Fahrt zu den Auspumpanlagen auf eine verantwortungsvolle Art und Weise durchgeführt wird, die die notwendige Bewegung auf dem Wasser minimiert.
Wenn Sie sich auf den Stegen aufhalten, nehmen Sie bitte Rücksicht auf andere Benutzer. Warten Sie oder gehen Sie zur Seite, um anderen das Passieren in einem sicheren Abstand zu ermöglichen.
Wir werden diese Maßnahmen im Lichte der Anweisungen und Ratschläge der Regierung und von Gesundheitsexperten ständig überprüfen, und alle Entscheidungen über die Bereitstellung von Diensten werden durch die Ausgabe von Marine-Mitteilungen bekannt gegeben. Wenn wir uns alle weiterhin an die Richtlinien der Regierung halten, die Ratschläge zur Einschränkung des Konsums befolgen und den sozialen Abstand strikt einhalten, können wir gemeinsam diese Pandemie bekämpfen – und es genießen, wieder auf oder an unseren Wasserstraßen unterwegs zu sein, wenn wir sie besiegt haben.
Während unsere Mitarbeiter von zu Hause aus arbeiten, sind sie während der normalen Arbeitszeiten telefonisch erreichbar. Sollten Sie unsere Hilfe benötigen, kontaktieren Sie uns bitte per E-Mail an info@waterwaysireland.org oder per Telefon https://www.waterwaysireland.org/contact-us.
Waterways Ireland dankt allen Schiffseignern und -betreibern für ihre Kooperation in dieser Angelegenheit.