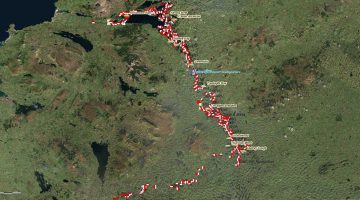 MARINE NOTICE, No. 108 of 2022
Erne System
Upper Lough Erne
Geaglum walkway refurbishment
From Mon 24th Oct 2022 for 3 weeks
Waterways Ireland wishes to inform masters of vessels and waterway users that Geaglum walkway refurbishment works on Upper Lough Erne will commence on 24/10/2022 to refurbish the walkway connecting the car park to the floating jetty at Geaglum.
The floating jetty will remain available for mooring, however, the walkway will be closed for the duration of the works and subsequently access to the car park for boaters will not be available. The works are expected to last approximately 3 weeks.
Waterways Ireland regrets any inconvenience that this may cause and thanks its customers for their co-operation in relation to this matter.
P Harkin, Inspector of Navigation, Waterways Ireland, 21 Oct 2022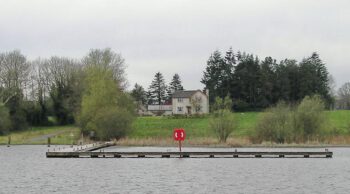 Erne-System, Lower Lough Erne, Sanierung des Geaglum-Wanderweges
 ab Montag, 24. Oktober 2022 für 3 Wochen
Waterways Ireland möchte die Kapitäne von Schiffen und die Nutzer der Wasserstraßen darüber informieren, dass am 24.10.2022 mit der Sanierung des Stegs am Upper Lough Erne begonnen wird, um den Steg zwischen dem Parkplatz und dem Schwimmsteg in Geaglum zu sanieren.
Der Schwimmsteg wird weiterhin zum Anlegen zur Verfügung stehen, der Steg wird jedoch für die Dauer der Arbeiten geschlossen, so dass der Zugang zum Parkplatz für Bootsfahrer nicht möglich sein wird. Die Arbeiten werden voraussichtlich etwa 3 Wochen dauern.
Waterways Ireland bedauert jegliche Unannehmlichkeiten, die dadurch entstehen können, und dankt seinen Kunden für ihre Kooperation in dieser Angelegenheit.