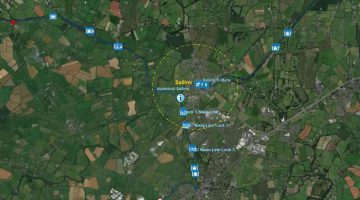 MARINE NOTICE, No. 127 of 2022
Grand Canal,
Sallins
Grand Canal Greenway Development
Sallins to Naas Golf Course
Tow-path closure, 5th December 2022 to 11th September 2023
Waterways Ireland wishes to advise Masters of Vessels and users of the Grand Canal that the Grand Canal Greenway Phase 1 construction works commenced on 17th October 2022.
The Grand Canal tow-path from Sallins to Naas Golf Club will be closed to pedestrian and cycle traffic from the 5th December 2022 until 11th September 2023.
Waterways Ireland thanks Master of Vessels and canal users for their understanding in relation to this matter.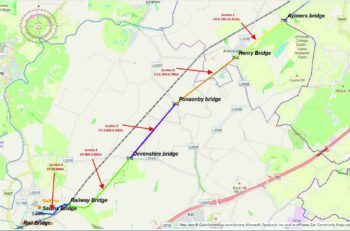 P Harkin, Inspector of Navigation, Waterways Ireland, 07 Dec 2022
Sallins, Grand Canal Greenway Entwicklung,Sallins bis Naas Golfplatz
Sperrung des Treidelpfades, 5. Dezember 2022 bis 11. September 2023
Waterways Ireland möchte die Schiffsführer und Nutzer des Grand Canal darüber informieren, dass die Bauarbeiten für den Grand Canal Greenway Phase 1 am 17. Oktober 2022 begonnen haben.
Der Treidelpfad des Grand Canal von Sallins bis zum Naas Golf Club wird vom 5. Dezember 2022 bis zum 11. September 2023 für den Fußgänger- und Radfahrerverkehr gesperrt sein.
Waterways Ireland dankt den Schiffsführern und Kanalbenutzern für ihr Verständnis in dieser Angelegenheit.
Karte Beschreibung automatisch generiert