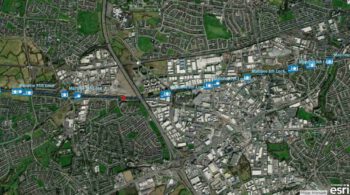 MARINE NOTICE, No.118 of 2022, Updated
Grand Canal
Greenway closure,
Lock 8 to Lock 9, 03 Jan to 10 Feb 2023
Waterways Ireland wishes to advise users of the Grand Canal Greenway that the greenway section from the 8th Lock to the 9th Lock will be closed from 3rd January to 10th February 2023 to accommodate ESB Cabling and services installation works.
No public access is permitted during these works. A temporary Traffic Management Plan with diversions for pedestrians and cyclists will be in-place.
Waterways Ireland thanks its customers for their understanding in relation to this matter.
P Harkin, Inspector of Navigation, 21 December 2022
| | |
| --- | --- |
| Grand Canal Lock 9; © Marinas.com | Grand Canal Lock 8; © Marinas.com |
Grand Canal, Greenway Schließung; Lock 8 bis Lock 9, 03. Januar bis 10. Februar 2023
Waterways Ireland möchte die Besucher des Grand Canal Greenway darauf hinweisen, dass der Abschnitt des Greenway von der 8. bis zur 9. Lock vom 3. Januar bis zum 10. Februar 2023 gesperrt wird, um Arbeiten an der ESB-Verkabelung und der Installation von Dienstleistungen durchzuführen.
Während dieser Arbeiten ist kein öffentlicher Zugang gestattet. Ein vorläufiger Verkehrsmanagementplan mit Umleitungen für Fußgänger und Radfahrer wird in Kraft sein.
Waterways Ireland dankt seinen Kunden für ihr Verständnis in dieser Angelegenheit.