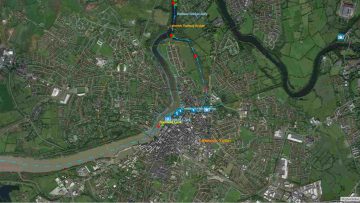 MARINE NOTICE, No. 12 of 2023
SHANNON NAVIGATION
OpeningTimes for Sarsfield Lock Limerick
Waterways Ireland wishes to advise masters of all craft of the following schedule for the operation of Sarsfield Lock in Limerick.
The lock keeper can also be contacted during the listed operational hours on the mobile phone number: 087 7972998. Outside of operational hours a message can be left on the mobile. Masters of vessels should provide 24 hours prior notice for lock passage.
Due to resource limitations only in exceptional circumstances will the lock gates be operated outside of the listed hours of operation.
Waterways Ireland thanks its customers for their cooperation in this matter.
P Harkin, Inspector of Navigation, 09 March 2023
| | |
| --- | --- |
| Sarsfields Lock view downstream; © CHB | Sarsfields Lock view upstream; © CHB |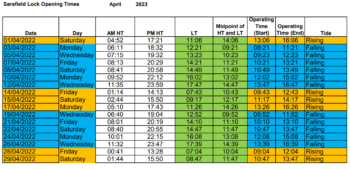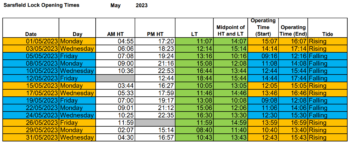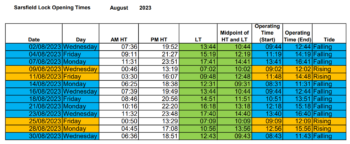 Shannon Navigation, Öffnungszeiten für Sarfield Lock Limerick
Waterways Ireland möchte die Kapitäne aller Wasserfahrzeuge auf den folgenden Zeitplan für den Betrieb des Sarsfield Lock in Limerick hinweisen.
Der Schleusenwärter ist während der aufgeführten Betriebszeiten auch unter der Mobiltelefonnummer 087 7972998 zu erreichen. Außerhalb der Betriebszeiten kann eine Nachricht auf dem Mobiltelefon hinterlassen werden. Die Kapitäne von Schiffen sollten die Durchfahrt durch die Schleuse 24 Stunden im Voraus anmelden.
Aufgrund der begrenzten Ressourcen werden die Schleusentore nur in Ausnahmefällen außerhalb der angegebenen Betriebszeiten geöffnet.
Waterways Ireland dankt seinen Kunden für ihre Kooperation in dieser Angelegenheit.