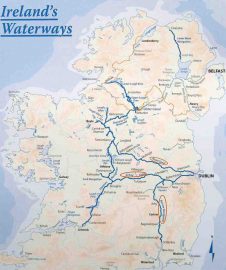 Royal Canal
Water Levels
Cautionary Warning
Waterways Ireland wishes to advise masters and users of the Royal Canal that due to the recent dry weather conditions and low rainfall the water levels cannot guaranteed, particularly on the summit level.
Masters should proceed with due caution.
P Harkin, Inspector of Navigation, 20 June 2018
Wasserstände Warnhinweis
Waterways Ireland möchte die Kapitäne und den Nutzern des Royal Canal mitteilen, dass aufgrund der jüngsten trockenen Wetterbedingungen und der geringen Niederschläge die Wasserstände nicht garantiert werden können, insbesondere auf der Gipfel-Ebene. Die Kapitäne sollten mit der gebotenen Vorsicht vorgehen.