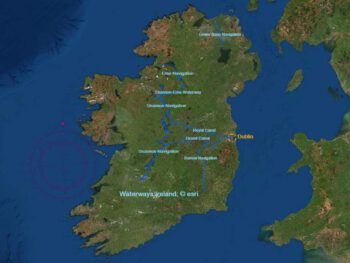 MARINE NOTICE, No. 44 of 2023
Shannon Navigation
Ordinary Summer Levels in all areas
Cautionary warning
Waterways Ireland wishes to advise masters and owners of vessels that water levels in all areas of the Shannon Navigation at now at Ordinary Summer Level.
Water levels are expected to continue to lower in the coming weeks.
Masters of vessels, particularly those with deep drafts, are advised to navigate with additional caution and to remain within the navigation at all times.
P Harkin, Inspector of Navigation, 25 May 2023
Shannon Navigation, Gewöhnliche Sommerpegel in allen Gebieten.
Vorsorgliche Warnung
Waterways Ireland möchte Kapitäne und Bootsbesitzer darauf hinweisen, dass die Wasserstände in allen Bereichen der Shannon Navigation jetzt den gewöhnlichen Sommerpegel erreicht haben.
Es wird erwartet, dass die Wasserstände in den kommenden Wochen weiter sinken werden.
Den Kapitänen von Schiffen, insbesondere von solchen mit großem Tiefgang, wird empfohlen, mit zusätzlicher Vorsicht zu fahren und jederzeit innerhalb der Navigation zu bleiben.