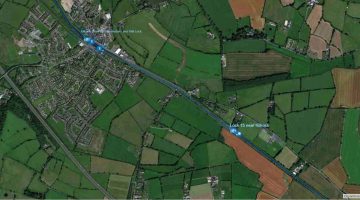 MARINE NOTICE, No. 98 of 2020
ROYAL CANAL – 13th LOCK – Dee Bridge
13th Lock Deep Gate Replacement
Waterways Ireland wishes to advise users of the Royal Canal – Lock 13 – that there will be no boat passages permitted from next Monday 23rd November until end January 2021 due to deep gate replacement and associated works.
Waterways Ireland thanks it customers for their understanding in this matter.
Patrick Harkin, Inspector of Navigation, 17 November 2020, Tel: 353 90 6494232
Royal Kanal – 13. Schleuse – Dee-Brücke
Auswechslung des Schleusentores vom 13. Lock.
Waterways Ireland möchte die Nutzer des Royal Canal – Schleuse 13 – darauf hinweisen, dass vom kommenden Montag, dem 23. November, bis Ende Januar 2021 aufgrund des Austauschs des Untertors und der damit verbundenen Arbeiten keine Bootsdurchfahrten erlaubt sind.
Waterways Ireland dankt seinen Kunden für ihr Verständnis in dieser Angelegenheit.