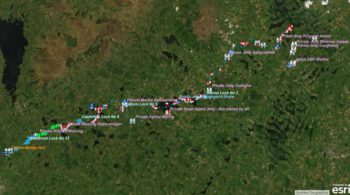 MARINE NOTICE, No 48_b of 2021
Shannon Erne Waterway
High water levels, Cautionary warning
Waterways Ireland wishes to advise masters and owners of vessels that high water levels exist in all areas of the Shannon Erne Waterway.
The lower jetties at Locks 2, 3, 5 and 7 are currently submerged.
The current across the navigation at Lock 15 is strong and could affect low powered vessels.
Air draft under bridges has been reduced as a result of the high-water levels, masters of high vessels are advised to navigate with additional caution in the vicinity of bridges.
Masters of Vessels should consult with the Water Patrollers prior to undertaking a passage on the Shannon Erne Waterway during Mon 9th and Tues 10th August 2021.
P Harkin, Inspector of Navigation, 09 August 2021
| | |
| --- | --- |
| Ballyconnell Lock No 2 | Skelan Lock No 3 |
| Andrum Lock No 5 | Ballyduff Lock No 7 |
| Tirmactieran Lock No 15 | Skelan Lock No 3 |
Hoher Wasserstand, Warnung zur Vorsicht
Waterways Ireland möchte Kapitäne und Bootsbesitzer darauf hinweisen, dass in allen Bereichen des Shannon Erne Waterway ein hoher Wasserstand herrscht.
Die unteren Anlegestellen an den Schleusen 2, 3, 5 und 7 sind derzeit überflutet.
Die Strömung in der Schleuse 15 ist stark und könnte Schiffe mit geringer Leistung beeinträchtigen.
Der Luftraum unter den Brücken ist aufgrund des hohen Wasserstandes reduziert. Kapitäne von Schiffen mit hohem Wasserstand werden gebeten, in der Nähe von Brücken besonders vorsichtig zu fahren.
Kapitäne von Schiffen sollten sich mit den Wasserschutzbeamten beraten, bevor sie am Montag, den 9. und Dienstag, den 10. August 2021 eine Fahrt auf dem Shannon Erne Waterway unternehmen.