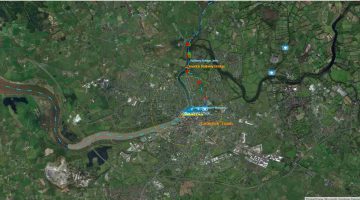 MARINE NOTICE, No. 112 of 2022
Shannon NavigationLimerick
Relocating of Railway Bridge waiting jetties to Georges Quay for winter period 29 October 2022 to March 2023
Waterways Ireland wishes to inform masters of vessels and waterway users on the Shannon Navigation that the Waiting Jetties at the Railway Bridge in Limerick will be relocated to Georges Quay from Saturday 29 October 2022, the jetties will be reinstated to their original location in March 2023.
Waterways Ireland regrets any inconvenience that this may cause and thanks its customers for their co-operation in relation to this matter.
P Harkin, Inspector of Navigation, Waterways Ireland, 27 Oct 2022
Shannon Navigation, Limerick
Verlegung der Wartestege der Eisenbahnbrücke zum Georges Quay für die Wintermonate
29. Oktober 2022 bis März 2023
Waterways Ireland möchte die Kapitäne von Schiffen und Wasserstraßen-benutzer auf der Shannon Navigation darüber informieren, dass die Wartestege an der Eisenbahnbrücke in Limerick ab Samstag, dem 29. Oktober 2022, an den Georges Quay verlegt werden. Die Stege werden im März 2023 wieder an ihren ursprünglichen Standort zurückkehren.
Waterways Ireland bedauert die dadurch entstehenden Unannehmlichkeiten und dankt seinen Kunden für ihre Kooperation in dieser Angelegenheit.