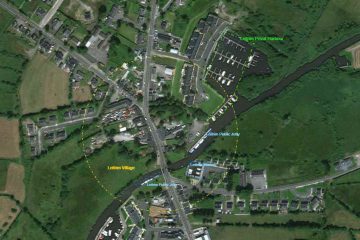 MARINE NOTICE, No. 32 of 2023
Shannon Erne Waterway
Village
Ownership of Waterfront jetty by Waterways Ireland
Application of Shannon Navigation Bye Laws
Waterways Ireland wishes to inform masters of vessels and waterway users on the Shannon Erne Waterways that the Waterfront jetty in Leitrim Village is now owned and managed by Waterways Ireland. This jetty is located upstream of the slipway on the northern side of the waterway.
The Shannon Navigation Bye Laws apply to this jetty from 17 April 2023.
Waterways Ireland thanks its customers for their co-operation in relation to this matter.
P Harkin, Inspector of Navigation, Waterways Ireland, 17 April 2023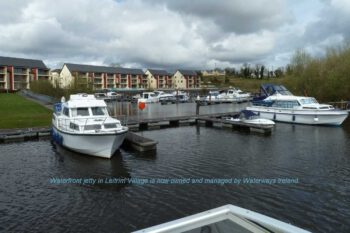 Shannon Erne Waterway, Leitrim Village
Waterways Ireland ist Eigentümerin der Waterfront-Anlegerplätze, Anwendung der Shannon Navigation Bye Laws
Waterways Ireland möchte die Kapitäne von Schiffen und die Nutzer des Shannon Erne Waterways darüber informieren, dass die Waterfront-Anlegestelle in Leitrim Village jetzt im Besitz von Waterways Ireland ist und von diesem verwaltet wird. Diese Anlegestelle befindet sich stromaufwärts der Helling auf der Nordseite des Wasserweges.
Die Shannon Navigation Bye Laws gelten für diese Anlegestelle ab dem 17. April 2023.
Waterways Ireland dankt seinen Gästen für ihre Kooperation in dieser Angelegenheit.