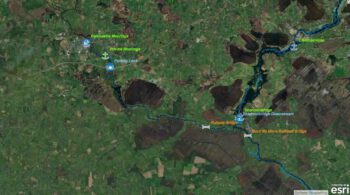 MARINE NOTICE, No. 34 of 2023
Shannon Navigation
River Suck
Pollboy Lock
Works deferred – Marine Notice 34 cancelled
Waterways Ireland wishes to inform masters of vessels and waterway users that the planned works at Pollboy Lock on the River Suck have been deferred.
Marine Notice No 34 of 2023 is cancelled.
P Harkin, Inspector of Navigation, Waterways Ireland, 19 April 2023
Shannon Navigation, River Suck, Pollboy Lock
Arbeiten verschoben – Marine Notice aufgehoben
Waterways Ireland möchte die Kapitäne von Schiffen und die Benutzer des Waterway darüber informieren, dass die geplanten Arbeiten an der Pollboy Lock am River Suck verschoben wurden.
Die Marine Notice Nr. 34 von 2023 wird aufgehoben.