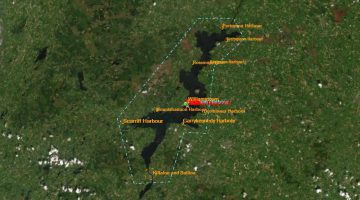 MARINE NOTICE, No. 54 of 2023
Shannon Navigation
Lough Derg
IFI Surveys, 12 to 30 June 2023
Waterways Ireland wishes to advise all masters of vessels and waterways users that IFI will be conducting fish stock surveys on Lough Der from 12th to 30th June 2023.
There will be around 100-110 net locations as shown on the map below. All nets will be marked with bright our range Buoys marked IFI Survey (see image). The majority of the nets will be set on the bottom, so depending on the depth only the marker buoys and rope will be potential hazards. Some floating and mid water nets in the deeper mid lake sections, and again these will be clearly marked, normally with 2 buoys.
Masters of vessels are requested to proceed with additional caution in the vicinity of the survey locations.
| | |
| --- | --- |
| IFI Surveys, 12 to 30 June 2023 | IFI Surveys, 12 to 30 June 2023 |
A picture containing water, outdoor, sky, beach Description automatically generated.
Waterways Ireland thanks its customers for their co-operation in relation to this matter.
P Harkin, Inspector of Navigation, Waterways Ireland, 08 June 2023
Shannon Navigation, Lough Derg, IFI-Erhebungen, 12. bis 30. Juni
Waterways Ireland möchte alle Schiffskapitäne und Wasserstraßennutzer darauf hinweisen, dass das IFI vom 12. bis 30. Juni 2023 Fischbestandserhebungen im Lough Derg durchführen wird.
Es wird etwa 100-110 Netzstandorte geben, wie auf der Karte unten dargestellt. Alle Netze werden mit hellen Bojen mit der Aufschrift IFI Survey markiert (siehe Bild). Die meisten Netze werden auf dem Meeresgrund ausgebracht, so dass je nach Tiefe nur die Markierungsbojen und das Seil eine potenzielle Gefahr darstellen. In den tieferen Abschnitten in der Mitte des Sees gibt es einige schwimmende Netze und Netze in der Mitte des Sees, die ebenfalls deutlich markiert sind, normalerweise mit zwei Bojen.
Die Kapitäne von Schiffen werden gebeten, in der Nähe der Vermessungsstellen mit zusätzlicher Vorsicht vorzugehen.
Ein Bild mit Wasser, Außenbereich, Himmel, Strand Beschreibung automatisch generiert
Waterways Ireland dankt seinen Gästen für ihre Kooperation in dieser Angelegenheit.