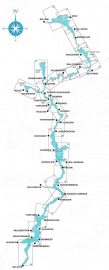 MARINE NOTICE, No. 68 of 2018
General notification
All Navigations and waterways
Mis-use of electrical power in Waterways Ireland harbours
Waterways Ireland wishes to advise masters and owners of vessels that we have been experiencing tampering with Waterways Ireland power bollards, where the card reader/wiring/circuit has been interfered with to enable access to free power.
Waterways Ireland advises masters and owners of vessels that:
This practice is illegal.
This practice is highly dangerous.
This practice damages the equipment and reduces the facilities available to other boaters.
Waterways Ireland will take steps to prosecute this criminal activity where witnessed.
If boat users witness the mis-use of power bollards please report the locations and details of the mis-use to info@waterwaysireland.org
Waterways Ireland thanks our customers for their support in relation to this matter.
P Harkin, Inspector of Navigation, 17 Jul 2018
| | |
| --- | --- |
| Electric Shore Power Enniskillen at Round O | Electric Shore Power at Lough Key |
Allgemeine Meldung, Alle Navigationen und Wasserstraßen
Missbrauch von elektrischer Energie in den Häfen von Waterways Ireland
Waterways Ireland möchte die Kapitäne und Schiffsbesitzer darauf hinweisen, dass wir an den Strompollern von Waterways Ireland herumgepfuscht haben, wo der Kartenleser, die Verkabelung und der Stromkreis gestört wurden, um den Zugang zu kostenlosem Strom zu ermöglichen.
Waterways Ireland benachrichtigt Kapitäne und Eigentümer von Schiffen, dass:
Diese Praxis ist illegal.
Diese Praxis ist sehr gefährlich.
Diese Praxis beschädigt die Ausrüstung und reduziert die Möglichkeiten, die anderen Bootsfahrern zur Verfügung stehen.
Waterways Ireland wird Schritte unternehmen, um diese kriminellen Aktivitäten zu verfolgen.
Wenn Bootsbenutzer den Missbrauch von Strompollern miterleben, melden Sie bitte die Standorte und Details des Missbrauchs an info@waterwaysireland.org