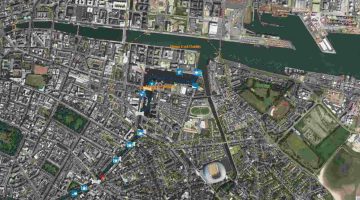 MARINE NOTICE, No 77 of 2019
GRAND CANAL
NAVIGATION RESTRICTION
GRAND CANAL DOCK
SEA LOCK RESTRICTIONS
Waterways Ireland wishes to notify owners and Masters of vessels that the Grand Canal Sea Lock will be restricted to navigation for the foreseeable future due to unforeseen circumstances.
Water levels may also be reduced along the Circular Line and Grand Canal Dock as a result of a major breach between Lock 1 and Lock 2 (Suir Road Area). Masters are advised to tend their mooring lines accordingly to accommodate any fluctuations in water levels.
Waterways Ireland regrets any inconvenience the above will cause to its customers.
Patrick Harkin, Inspector of Navigation, 22 July 2019
Einschränkungen bei der Seeschleuse
Waterways Ireland möchte die Schiffseigner und Kapitäne der Schiffe darüber informieren, dass die Grand Canal Sea Schleuse in absehbarer Zeit aufgrund unvorhergesehener Umstände auf die Navigation beschränkt sein wird.
Der Wasserstand kann auch entlang der Circular Line und des Grand Canal Docks infolge eines größeren Bruchs zwischen Schleuse 1 und Schleuse 2 (Suir Road Area) reduziert werden. Den Kapitänen wird empfohlen, ihre Festmacherleinen entsprechend zu pflegen, um Schwankungen des Wasserspiegels Rechnung zu tragen.
Waterways Ireland bedauert alle Unannehmlichkeiten, die seinen Kunden dadurch entstehen.