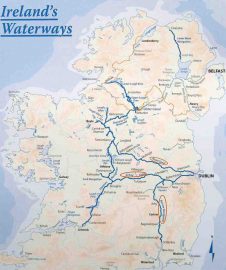 MARINE NOTICE, No. 27 of 2020
All Navigations
Covid-19 measures
Access to Navigations and availability of services
Waterways Ireland wishes to advise all Masters of vessels and water users of the following access to navigations and availability of services until further notice:
All service blocks are closed until further notice (Ref MN 23 of 2020)
Water, electricity and pump outs are being re-connected – this is an evolving process as flood levels recede and resources allow (Ref MN 21 of 2020).
Lock & bridge passage is available on the Shannon Navigation from 9.00am to 12.30 on weekdays and 10.00am to 12.30pm on Sundays – where possible please advise lock keeper in advance (Ref MN 21 of 2020).
As the Waterway Patrollers on the Shannon-Erne Waterway will not be at work to provide support to boaters, the lock operation systems will be switched off. Vessels will therefore not be able to make any lock passages.
The Grand Canal, Royal Canal and the Barrow Navigational locks will be operating under reduced hours of opening.
Boat passage in and out of Dublin is postponed until further notice (Ref MN 26 of 2020).
There are no restrictions on the Erne Navigation.
As the lock-keepers on Lower Bann will not be at work, vessels will not be able to pass through the locks on the Lower Bann.
The Winter Mooring period on the Shannon Navigation and Shannon Erne Waterway has been extended until 30 April 2020. There will be no additional cost for this extension (Ref MN 114 of 2019).
The network of canals, towpaths, docks and river navigations managed by Waterways Ireland remain open, but we are strongly encouraging people to stay local, and strictly observe social distancing measures. We are asking our users not to congregate, to keep moving, and allow ample space for others to pass in accordance with social distancing.
Waterways Ireland is encouraging all Masters of vessels and water users on all navigations to continue to follow the guidelines which have been provided by the health authorities.
Waterways Ireland thanks all vessel owners and operators for their co-operation in relation to this matter.
P Harkin, Inspector of Navigation, 25 March 2020, 087-9852324
Alle Navigationen
Covid-19-Maßnahmen
Zugang zu Navigationen und Verfügbarkeit von Diensten
Waterways Ireland möchte alle Schiffskapitäne und Wassernutzer bis auf weiteres über den folgenden Zugang zu den Schifffahrtswegen und die Verfügbarkeit von Dienstleistungen informieren:
Alle Serviceblöcke sind bis auf weiteres geschlossen (Ref MN 23 von 2020)
Wasser, Elektrizität und Pumpen werden wieder angeschlossen – dies ist ein sich entwickelnder Prozess, da die Überschwemmungen zurückgehen und die Ressourcen dies zulassen (Ref MN 21 von 2020).
Die Schleusen- und Brückendurchfahrt ist auf der Shannon-Schifffahrt werktags von 9.00 bis 12.30 Uhr und sonntags von 10.00 bis 12.30 Uhr möglich – wenn möglich, informieren Sie bitte den Schleusenwärter im Voraus (Ref MN 21 von 2020).
Da die Waterway Patrolers auf dem Shannon-Erne Waterway nicht zur Unterstützung der Bootsfahrer im Einsatz sind, werden die Schleusenbetriebssysteme abgeschaltet. Die Schiffe werden daher keine Schleusendurchfahrten machen können.
Der Grand Canal, der Royal Canal und die Barrow-Schleusen werden unter reduzierten Öffnungszeiten betrieben.
Die Schiffspassage in und aus Dublin wird bis auf weiteres verschoben (Ref MN 26 von 2020).
Es gibt keine Einschränkungen für die Erne-Schifffahrt.
Da die Schleusenwärter auf der Lower Bann nicht arbeiten werden, können die Schiffe die Schleusen auf der Lower Bann nicht passieren.
Die Winterliegezeit auf der Shannon Navigation und dem Shannon Erne Waterway wurde bis zum 30. April 2020 verlängert. Für diese Verlängerung fallen keine zusätzlichen Kosten an (Ref. MN 114 von 2019).
Das von Waterways Ireland verwaltete Netz von Kanälen, Treidelpfaden, Docks und Flussschifffahrtswegen bleibt offen, aber wir ermutigen die Menschen nachdrücklich, vor Ort zu bleiben und die sozialen Abstandsmaßnahmen strikt einzuhalten. Wir bitten unsere Nutzer, sich nicht zu versammeln, in Bewegung zu bleiben und anderen entsprechend der sozialen Distanzierung ausreichend Platz zum Passieren zu lassen.
Waterways Ireland ermutigt alle Schiffskapitäne und Wassernutzer auf allen Schifffahrtswegen, sich weiterhin an die Richtlinien zu halten, die von den Gesundheitsbehörden vorgegeben wurden.
Waterways Ireland dankt allen Schiffseignern und Betreibern für ihre Zusammenarbeit in dieser Angelegenheit.