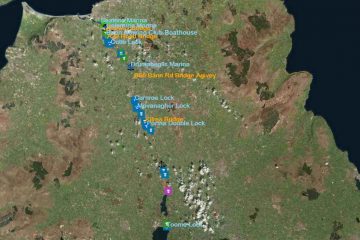 MARINE NOTICE, No.55 of 2020
LOWER BANN NAVIGATION
RE-OPENING OF THE LOCKS
DEFERRED UNTIL FURTHER NOTICE
Waterways Ireland wishes to advise masters and users of the Lower Bann Navigation that due to unforeseen circumstances the reopening of the Locks has been deferred until further notice.
A further Marine Notice will be issued when further information is available regarding reopening the locks.
Waterways Ireland apologies to masters of vessels and waterways users for any inconvenience caused.
P Harkin, Inspector of Navigation, 18 June 2020, Tel: + 353 87 9852324
LOWER BANN NAVIGATION
WIEDERÖFFNUNG DER SCHLEUSEN BIS AUF WEITERES VERSCHOBEN
Waterways Ireland möchte die Kapitäne und Nutzer der Lower Bann Navigation darauf hinweisen, dass die Wiedereröffnung der Schleusen aufgrund unvorhergesehener Umstände bis auf weiteres verschoben wurde.
Eine weitere Mitteilung an die Schifffahrt wird veröffentlicht, sobald weitere Informationen über die Wiederöffnung der Schleusen vorliegen.
Waterways Ireland entschuldigt sich bei den Kapitänen der Schiffe und den Nutzern der Wasserstraßen für die verursachten Unannehmlichkeiten.