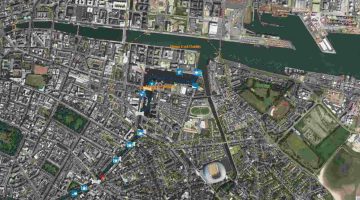 MARINE NOTICE, No 18 of 2020
GRAND CANAL
DUBLIN
Update on programme for Irish Water sewer repair works between Locks 1 & 2, Inchicore area
Further to Marine Notice 11 of 2020 Waterways Ireland wishes to advise its users of the most recent update to the Irish Water contractor programme for sewer repairs at Inchicore Dublin, which includes reinstatement of the Grand Canal to navigation passage between Locks 1 & 2.
The completion date for works is now estimated to be the end of May 2020.
The canal will remain closed to navigation until this time. As the works to the sewer are dependent on a number of factors and are outside of Waterways Ireland control, this date cannot yet be confirmed but updates will be issued when available.
Waterways Ireland would like to thank our customers for their ongoing understanding in this matter.
Patrick Harkin, Inspector of Navigation, 02 March 2020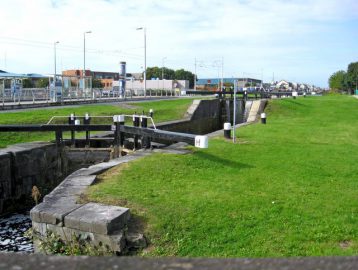 DUBLIN
Update zum Programm für die Reparaturarbeiten an der irischen Wasserkanalisation zwischen Schleuse 1 und 2, Inchicore-Gebiet
Im Anschluss an die Bekanntmachung Nr. 11 der Marine von 2020 möchte Waterways Ireland seine Nutzer auf die jüngste Aktualisierung des Programms für die Reparatur von Abwasserkanälen in Inchicore Dublin hinweisen, das die Wiederherstellung der Durchfahrt des Grand Canal zwischen den Schleusen 1 und 2 umfasst.
Das Fertigstellungsdatum für die Arbeiten wird nun auf Ende Mai 2020 geschätzt.
Bis zu diesem Zeitpunkt bleibt der Kanal für die Schifffahrt gesperrt. Da die Arbeiten an der Kanalisation von einer Reihe von Faktoren abhängen und außerhalb der Kontrolle von Waterways Ireland liegen, kann dieses Datum noch nicht bestätigt werden, aber Aktualisierungen werden herausgegeben, sobald sie verfügbar sind.
Waterways Ireland möchte sich bei unseren Kunden für ihr anhaltendes Verständnis in dieser Angelegenheit bedanken.