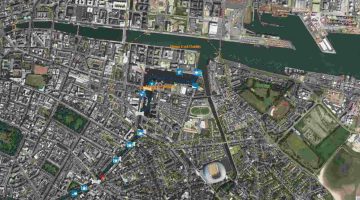 Marine Notice, No 71 of 2020
Grand Canal
Navigation Closure
Levels C3 & C4 Mespil Road, Dublin
From 21st September 2020
Waterways Ireland wishes to notify navigation users on the Grand Canal in Dublin that Levels C3 & C4 will be closed to navigation from 21st September 2020.
This is due to repair works to Lock C4 at Mespil Road, which are planned to start on this date. No further boat passages in / out of Dublin past these levels will be possible from 21st September for the remainder of the 2020 boating season, and local boat movements through these locks will not be possible until late December.
There will also be restrictions to pedestrian movements in the area of Lock C4 due to the ongoing works.
Waterways Ireland apologise for any inconvenience caused by these works.
Patrick Harkin, Inspector of Navigation, 20 August 2020
Schließung der Navigation
Levels C3 & C4 Mespil Road, Dublin ab 21. September 2020
Waterways Ireland möchte die Benutzer der Schifffahrt auf dem Grand Canal in Dublin darüber informieren, dass die Level C3 & C4 ab dem 21. September 2020 für die Schifffahrt gesperrt werden.
Grund dafür sind Reparaturarbeiten an der Schleuse C4 an der Mespil Road, die an diesem Datum beginnen sollen. Ab dem 21. September werden für den Rest der Bootssaison 2020 keine weiteren Bootsdurchfahrten in / aus Dublin über diese Ebenen hinaus möglich sein, und lokale Bootsbewegungen durch diese Schleusen werden erst Ende Dezember möglich sein.
Aufgrund der laufenden Arbeiten wird es auch im Bereich der Schleuse C4 Einschränkungen für Fußgänger geben.
Waterways Ireland entschuldigt sich für die durch diese Arbeiten verursachten Unannehmlichkeiten.