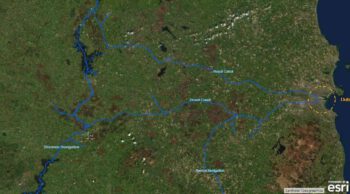 MARINE NOTICE, No 41 of 2021
Royal Canal
Low water levels on summit level
Cautionary advice
Waterways Ireland wishes to advise masters and owners of vessels that low water levels are being experienced on the summit level of the Royal Canal. Water levels are currently down 300mm.
Masters of vessels are advised to proceed with additional caution and to contact the water patroller for latest advice and assistance.
Waterways Ireland apologies for any inconvenience caused.
P Harkin, Inspector of Navigation, 20 July 2021
Niedrige Wasserstände auf dem Scheitelpunkt
Vorsorglicher Hinweis
Waterways Ireland möchte Kapitäne und Bootsbesitzer darauf hinweisen, dass auf der Scheitelhöhe des Royal Canal ein niedriger Wasserstand zu verzeichnen ist. Der Wasserstand ist derzeit um 300 mm gesunken.
Kapitäne von Schiffen werden gebeten, mit zusätzlicher Vorsicht vorzugehen und die Wasserwacht zu kontaktieren, um aktuelle Ratschläge und Unter-stützung zu erhalten.
Waterwaysireland entschuldigt sich für die entstandenen Unannehm-lichkeiten.